When change hit the UConn football coaching staff, they were not the only thing that was new once spring football began; the philosophy on offense and defense was as well, both schematically and tactically. As head coach Randy Edsall turned to Villanova defensive coordinator Billy Crocker to lead his defense, the change led to the implementation of a 3-3-5 system, which in turn led to a change in the approach to recruiting that side of the ball. Where the previous staff focused on bigger and longer guys, it seems this staff is focused on athletes and speed, specifically players that can specialize among multiple positions, call it a hybrid safety; players that can play safety and corner or safety and linebacker.

That versatility is the exact word that Jordan Morrison, who committed back in June, used to describe himself. He's one of now ten members of the 2018 recruiting class and comes to UConn from Steinert High School in Hamilton Township, NJ. He was on campus on June 24th and that visit made his decision for him.
"Last Saturday [June 24th], when I went up to visit, it felt like home," Morrison said over the phone in early July. "I didn't get that feeling from any other university that I visited. When I went up there, all the coaches were showing love. I loved the facilities and loved the campus. I loved the atmosphere there and like I said, it just felt like home."
The coaches, specifically Crocker and Edsall, didn't hurt. They and the entire staff made a big impact on him as Morrison described them as 'straightforward and honest.'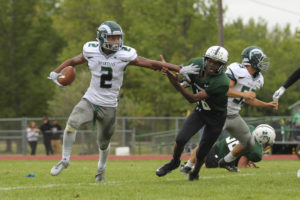 A season ago, Morrison played all skill position on offense, scoring 20 TD's in the process, returned kicks and also starred at defensive back. But the Huskies and Crocker see him at one spot in particular.
"UConn actually recruited me as a safety, strong safety," Morrison confirmed. "I'm working on every position I can, so I can be very versatile and coachable when I get up there. In all honesty, when I get up there I'm just going to go on the field and just show what I can do because I can move around the field; slot, outside receiver, running back, corner or safety."
He was also familiar with Crocker ahead of his arrival at UConn as Villanova as the Wildcats did show interest prior to the Huskies DC moving to Storrs. In addition to UConn, Navy, Army, Air Force, Virginia, Temple and several others offered. The three military academies in on Morrison signifies the type of person the UConn program is getting. Morrison credited how he was raised for that.
"My parents really impacted my life big time," he proudly stated. "They always taught me the right things; right from wrong and taught me to have great confidence in myself."
As he begins to prepare for his final season at Steinert, Morrison had one goal in mind.
"Win the state championship," he said matter-of-factly. "That's our mindset this year and that's what's going to happen."
That confidence will fit right in with the swagger being further developed in Storrs. Morrison knows 2016 was a down year, but the future is bright.
"The perception of UConn is positive down here, everyone's excited for me," he said. "I know record-wise, going 3-9, it wasn't the best year, but with Coach Edsall coming back, he's going to lead the program back to where it was when he was here. I'm putting my trust in him. When I get up there, I'm going work to make a big impact. That's exactly what this entire 2018 class is going to do."
MATT SCHONVISKY / SITE CREATOR