If given one word to describe the secondary in Storrs ahead of training camp, inexperienced would be it. After seeing the first open practice of camp on Monday, that may be an understatement. Outside of the starting corner positions, the back end of the Huskies defense throughout the two-deep consisted predominantly of three true freshmen (Brayden Brown, Omar Fortt and Jordan Swann), a redshirt freshman (Tyler Coyle) and a redshirt sophomore (Marshe' Terry) who has had limited time in actual game action. Senior Brice McAllister and junior Anthony Watkins mixed in, as did redshirt sophomores Aaron Garland and John Robinson IV (who does have experience), but overall, youth ruled the day.
Head coach Randy Edsall was adamant following practice on Monday, that he won't hesitate using freshmen this season and indications are that the bulk of them will likely come in the secondary.
"Last night I sat down and told the staff that I wanted to move some guys around because there were some things that I didn't like and wasn't happy with," Edsall said post-practice. "We're going to play the best guys, those who give us the best opportunity to win and the guys who are going to give us their best effort all the time. That's why you saw a bunch of different guys with the one's and the two's. I know we are going to have to have depth and I need to develop it here in practice as much as I can before we get into the games. If we need to play freshmen, we will and there are probably more than a few that will get on the field one way or the other; that's offense, defense or special teams."
Despite sixty-percent of the secondary in question, the starting corner spots are settled with seniors Jamar Summers and Tre' Bell, who will bring much needed leadership and a steadiness to the young group. Bell, who transferred in a year and a half ago from the SEC, was a highly touted recruit out of high school in New Jersey. He shined throughout 2016 on the practice field, honing his already developed skills by battling his roommate Noel Thomas everyday. He recognizes the role him and Summers will have on the rest of the guys, who will be young and lacking game experience.

"We [him and Summers] are going to operate the same way," Bell said at UConn Media Day. "We just need to handle our business, whether that be in the weight room, classroom, on the field or in the film room. If we do that, we have some guys behind us that will follow suit and just do what we do. We try to set the right example and if we continue to do what we do and have success, believe in Coach Cox and how Coach Edsall wants us to play, we'll be fine."
Despite a short response, Edsall was clear and concise with his thoughts on Bell, who is a natural fit with what he's looking for from his players.
"Tre' is very studious, very serious and focused," Edsall said on Monday. "You can tell he's ready to go."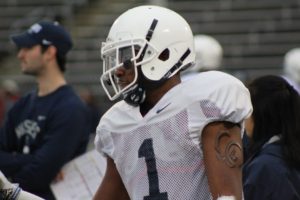 After having to sit out all of 2016, the wait is over as opening night is quickly approaching, a day he's had circled on the calendar for a long time.
"I'm feeling great," Bell confirmed. "I'm excited to go out there and play for the state of Connecticut. My preparation to make myself better has never stopped. Last year I was not eligible, so I focused on making others better, but I was also focusing on myself, getting stronger and faster. I was mentally preparing. Now it's time to put it out on the field and just play how I know how to play."
Bell, who has a nose for the ball will also bring physicality to the corner position. He's an energetic player that gets animated on the practice field and also made the play of the day on Monday, winning a 50-50 ball against sure-handed wide receiver Hergy Mayala for the interception. With kickoff just twenty-one days away, the goals for the year have been set and excitement is reigning supreme.

"We're all excited," Bell responded. "There's a great energy that the coaches are passing along. Individually, I want to stay healthy in order to play at a high level throughout the season. As a team, we want to bring winning back to the state of Connecticut. It's important to set goals and we have big goals this year that we have set for ourselves."
How quickly the secondary is able to come together will be a key factor if the 2017 Huskies do in fact reach those goals. With Tre' Bell leading the unit, it certainly won't hurt the cause.
MATT SCHONVISKY / SITE CREATOR