Thursday night kicked off the 2017 NFL season with the defending Super Bowl champion New England Patriots hosting the Kansas City Chiefs. The Pats, who have won two of the last three titles, operate under a mantra coined by head coach Bill Belichick that has since become quite famous and common among coaches across all levels of sport, 'do your job.' It's a saying and mentality that breaks down a complicated game to a simple task for players on each and every play. Focus on your job, your individual responsibility and what you can control and the rest will take care of itself.
So how does this relate to UConn football? Well, if you've been around the program since the start of training camp, you've heard 'do your job' from coaches and players alike throughout the summer. On Tuesday, at his normal media appearance ahead of the scheduled conference opener against USF, head coach Randy Edsall again referenced the phrase.

"It's not a hard game," Edsall said. "If you do what you're supposed to do and you do your job, it makes it easy. That's one of the big things we need these guys to understand. It's not about you, it's about everyone. You have one responsibility to do on each and every play and if you do that, now we have a chance for success and we can be a very functional football team. When we don't, that leads to problems and that gives us issues like playing behind the sticks offensively or giving up a first down defensively or turning it over. We are continuing to hammer that home, just do your job."
The coaches are also focusing on that same task as they continue to analyze how each player can help the team. As the staff begins to see what the players in the program can do during live game action, coaches opinions are changing compared to what they saw on the practice field.
"We are going to put these young men in a position where they can be successful," Edsall stressed. "Assess their abilities, assess their talent level and the things they do well and then collectively put that all together so we can be successful on offense, defense and special teams. That's what we are still trying to do, but we found out more about ourselves on Thursday night [against Holy Cross]. We'll find out more as we go along."
"The job of the student athlete is then to take all those corrections, all the knowledge that they receive from the coaches and work on it to get better," Edsall continued. "If they do that, then we'll become who we want to become. We do that when we sit down to watch the film and we make decisions on what we saw when watching that film. Then we put together things that we can do moving forward. Everyone needs to know that they are all one play away from getting in there and playing. They need to prepare that way in meetings, in the weight room and when they go to practice. Play with that speed and intensity that will then carry over to game day."
During our sit-down interview heading into the season opener, Edsall expanded even further on the mantra and why it's relevant to his team, especially this season.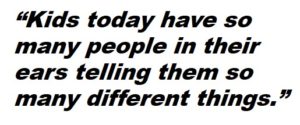 "Kids today have so many people in their ears telling them so many different things," he said. "They tell them if you do this or you make this play you'll get more recognition and it will help you down the road. We are trying to teach them that you are part of a team and everybody has their role. You're going to be given a role and you need to go out there and do your job, do your role to the best of your ability. If they do that then we have a chance to be successful. If they don't and they go off on their own, just trying to make plays, living outside of the scheme and responsibilities that they are given, it's going to be hard for us to have the kind of success that we want to as a team."
"The more we can get them to focus on what they need to focus on; if I'm supposed to be in b gap, then I fit in the b gap, or if I'm supposed to block a certain guy against a certain coverage, then they need to do that," Edsall stressed. "If they start ad libing and doing things their own way, it's going to affect a lot of other people and that's when you start opening yourself up to giving up big plays, maybe getting the quarterback sacked, those sort of things. The more we can get them to understand that it's not complicated, just focus in on what you're supposed to do and just do your job to the best of your ability. If we get guys that aren't doing that, then they'll be standing on the sideline next to me watching."
One player who will no longer be watching, but instead be front and center moving forward is quarterback Bryant Shirreffs, who came on against Holy Cross and orchestrated three touchdown drives after the Huskies trailed 20-7 with under two minutes left in the third quarter. Heading into the USF game, Shirreffs was asked about last season's match-up, one where he took several hits, leading him to miss media interviews following the loss, instead going straight to the x-ray room in Tampa. No surprise, his response included the Huskies mantra.
"If we just execute the plays, that'll help because if everyone is doing their job, things like last year won't happen [excessive amount of QB hits]," he said. "All I can do is control what I'm doing and help the people around me."
With head coach Randy Edsall and the rest of the coaching staff's philosophy getting through to the players this early, as they head on the road next Saturday for the first time in 2017 in ACC country, each player is sure to be focused on one simple task: Do. Your. Job.
MATT SCHONVISKY / SITE CREATOR