Special teams are always the forgotten group come media day. With a new coaching staff, new systems, new freshmen, a quarterback competition and on top of that, having the entire offense and defense available, there weren't many surrounding the specialists as the media picked through who to speak with at UConn football media day on Friday. But as you find out within thirty seconds of talking to the group, you will be entertained. The best way to describe them? Let's go with unique, in a good way. They aren't the first and certainly won't be the last to come through Storrs that bring a smile to your face and previous contingents have coined themselves the 'Kick Squad.' These guys? You'll find them on Twitter under the handle @CONNSpecialists.
It's run by Michael Tarbutt, Brett Graham, Nick Zecchino and Jeff Sidebotham and after a quick review, the humor comes through loud and clear. Perhaps their best work is their self-created player profiles. There's this gem on Sidebotham: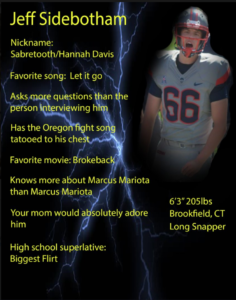 In all seriousness, however, the Huskies have a rather large hole to fill with the graduation of Bobby Puyol. The responsibility will fall to redshirt sophomore Michael Tarbutt .
MATT SCHONVISKY / SITE CREATOR