Lost in last Friday's defensive performance was a play run by offensive coordinator Rhett Lashlee that deserves a standing O. Straight out of the Josh McDaniels playbook with unbalanced lines, an eligible player that lined up at left tackle, it was one of those plays that have NFL coaches complaining after it's run in the league. The following is a quick breakdown of the play.
Out of the huddle, QB Bryant Shirreffs lines the offense up in a bunch formation, with the usual left tackle Matt Peart lined up as a tight end on the right side of the line: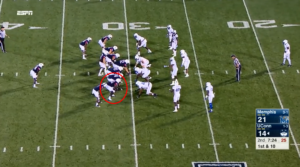 Shirreffs then calls for a reset of the formation, as players spread out across the field.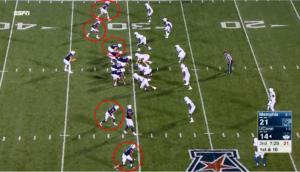 I've circled the five eligible receivers in the formation. Tight end Alec Bloom is lined up at left tackle, but is an eligible receiver because he is not covered up on the outside by either receiver to the top of the formation. On the bottom, Matt Peart makes the 5th ineligible receiver at the line as he is covered on the outside by Tyraiq Beals.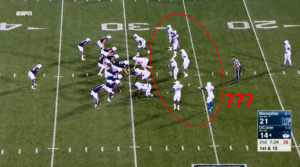 Going back to the start, the tight set creates mass confusion for the Memphis defense as they struggle to figure out how to matchup. Rather than call timeout, Memphis head coach Mike Norvell lets it play out.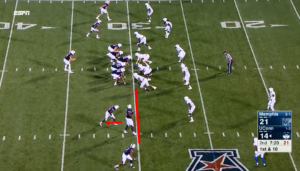 Based on Peart's set-up as an ineligible receiver, he cannot cross the line and move downfield at the snap, much like if he was playing his usual spot at left tackle. You'll see he emphasizes this when at the next screen shot.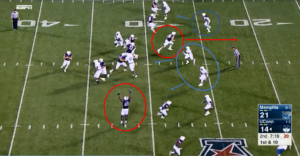 At the snap, Memphis ignores Alec Bloom's release off the line, figuring he is the left tackle and can't run down field. Peart moves backwards and draws further attention from the middle of the Memphis defense and the result is shown below:
This has not been the only creative or 'trick' play run by the Huskies offense (see Shirreffs lined up at WR for the long passing TD to Hergy Mayala at Virginia) all season and the possibility of more to come should keep future opposing defenses guessing when the next one will come. Will UConn put another on display today at Temple? It could go a long way in helping the Huskies notch their second win of the year.
MATT SCHONVISKY / SITE CREATOR