Less than two weeks after UConn offensive coordinator Rhett Lashlee departed, offensive line coach J.B. Grimes followed his lead and resigned to take the same position at Auburn. The move left two openings at the two most critical coaching positions on the offensive side of the ball for the Huskies. With John Dunn named the new offensive coordinator, that leaves o-line as the final piece to the 2018 coaching puzzle left to be filled.
There are many options and candidates, but there's one available that stands out above all others. That would be Garin Justice, who served under Lane Kiffin at Florida Atlantic this past season. He led an Owls offensive line that was rated the 7th most efficient in the nation a season ago and the performance led to a call from his former head coach at West Virginia, Rich Rodriquez. Justice was named Arizona offensive line coach in December, but was not retained by Kevin Sumlin, after Rich Rod's off-field scandal led to his firing.
Justice provides success and experience as both a former player and a coach. A native of West Virginia, he played at WVU (2002-05), fulfilling a childhood dream, developing into team captain his final year with the Mountaineers.
"That was always my goal," he confirmed during an interview on FAU's website a year ago. "My parents were all WVU fans, my grandfather was and that was my childhood dream. I was never a great football player growing up, I was just good enough. They were my one-and-only offer, so I didn't have much choice where I was going to play, but it just so happened that the team I grew up rooting for is the one that gave me a chance."
"I played right tackle," he continued. "I spent five years there, redshirted my first year. The neat thing about my experience there is my first year was Rich Rodriquez's first year and we went 3-8. By the time we left, we were Sugar Bowl Champions and won a couple Big East titles. Being part of a resurgence has been really valuable as a coach."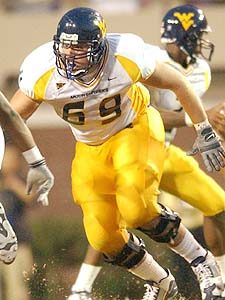 COACHING CAREER
Following his playing days, Justice had an opportunity to stick on at WVU as a graduate assistant, coaching under Rich Rodriguez and his former offensive line coach, Rick Trickett.
"I went straight to coaching," Justice said. "I was fortunate enough that I stayed on at West Virginia for one-year. They asked me to stay on as a GA. It just so happened that [Coach] Trickett, who was my offensive line coach at the time, got an opportunity at Florida State and he asked if I wanted to go with him. That was a great experience getting to see the no-huddle system that Coach Rod had and the complicated pro-system that Jimbo Fisher had. It's really made me develop a lot as a football coach."
His development as a coach led him to eventually be a head coach at the Division II level back home in West Virginia at Concord University. It's that experience that partly led to Kiffin retaining Justice when he arrived at FAU in 2017.
"I want to build something," Justice said when asked why he thinks Kiffin kept him on staff. "Everywhere I've been, I've seen a building process. When I was at West Virginia, we built ourselves up into winning the Sugar Bowl before I left. When I was head coach at Concord University, we were a very poor program and then we were National Semifinalists five years later. I believe in building something. I don't want to take a short cut or the easy way out; I want to see something through."
His experience at Concord also gave him a greater appreciation for how it all comes together.
"It makes you appreciate when you do get those high calls," he said. "You appreciate the equipment managers, support staff, GA's and student assistants because that was you when you were coaching at a smaller school. The biggest thing Concord did is it allowed me to experiment and grow. I could do some things at that level and people wouldn't necessarily criticize me or question why I did something a certain way. It let me make some mistakes and allowed me to grow as a coach and really develop my philosophy. That was the biggest thing I took from it. I'm humble and grateful for what I have now and it also allowed me to develop as a coach."
Having played for Trickett, who has a reputation that precedes him, Justice has seen it all. But it was also Trickett that shared some advice when Justice first got into coaching that still lives with him today.
"I can take one," he joked. "The biggest thing or criticism with [Coach Trickett] is he coaches a certain way, but he is true to who he is. He's an ex-Marine, tough-guy, that's who he is and it's genuine. That's one thing he told me when I got into coaching was 'you're not Rick Trickett, you're never going to be Rick Trickett and if you try to be me, kids are going to see right through that.' So I try to be me, try to be authentic, but at the same time, you have to do things the right way all the time. There's only one way to winning and that's the right way."
GETTING THE MOST OUT OF YOUR ABILITIES
Justice is a guy who knows how to grind. He wasn't gifted with the most athletic talent in the world, but he's been through the battles of finding a way to make things happen as a player. His approach as a player and now as a coach is closely aligned with what Edsall is hoping to re-instill here at UConn.
"I played at a high level, but I wasn't a high level athlete," Justice said. "The biggest thing that really correlated to me being a successful coach is the fact that I had to do everything right as a player. Sometimes guys are highly successful and they don't know why, it's just God-given abilities. Me on the other hand, I had to totally buy-into taking the right step the right way, place my hands in the right spot. That correlation is how I became a successful football player and it's why I see success as a coach."
That experience transferred directly into his philosophy as an offensive line coach.
"I definitely know that if one guy is off, then we are all off," he said. "We need to be faceless and selfless in what we do and our approach, but what I try to do as a coach is make a lot of the techniques at each position carry over. If a guard moves to tackle or vice versa then we can have a lot of those techniques at each position. We try to make it to where our schemes, not only do our techniques carry-over, but our assignments as well."
He also knows that communication across the unit is the biggest thing to seeing success.
"It 100-percent starts with communication," he said. "The center paints the picture. He's going to give the Mike-declaration. He's going to tell us who we are working to and everything he does works out from there. The center paints the picture and then the tackles and guards have to communicate that picture to everyone else."
There's also effort and technique, something you will hear Edsall preach on a consistent basis.
"That's everything I'm about, effort and technique," Justice said. "If we can do that, we will win a lot of football games. That's anyone in the country. If they can play harder than the other team, do the right assignment as hard as they can with great technique, you'll win a lot of football games."
"Big people who are athletic, God doesn't make a lot of those," he added. "You have to find a guy that is smart, tough and has enough ability. Once you have that, I think you can create or make any offensive line. We'll provide the car, they have to provide the gasoline. It's such a skilled position. As a wide receiver or a kid growing up playing football, you ran and caught a ball, no one taught you how to run. To keep a base, do things unnatural and to run with all of your feet in the ground, that's very, very skillful, we have to teach those skills. I have to retrain how your whole human body works and the bio-mechanics of that. It's very much a skilled position, but usually if I have the intelligence, want-to and drive with enough base-talent, I feel like we can make a quality offensive line."
But you also have to be smart and committed.
"They are both very, very important," he said. "The two things I always say in my room, you can never have success with dumb and lazy. That's the biggest thing, we have to be smart, we have to have a hat on a hat, but once we have that, do we run our feet, finish our blocks and do things the right way? All those elements are equally important, but I've had guys that can only do one or the other. The offensive line is different, they all come in different shapes and sizes and it's your job as an offensive line coach to mold them to be one group."
Whether Justice is a coach that Edsall sees as a fit remains to be seen, but there are already some indications this could be where the Huskies program turns. Justice recently started following Edsall, Corey Edsall and newly appointed offensive coordinator John Dunn on Twitter. If anything else, Justice's story and his approach to the game are a perfect fit for what the UConn program is all about.
MATT SCHONVISKY / SITE CREATOR