Humble. If there was one word to describe the former UConn defensive tackle who will take part in the NFL Combine in Indianapolis on Sunday, that would be the one. There could be other adjectives that fit the description just as well. Class, character, professional, the list could go on and on. It's something that makes Foley Fatukasi unique, particularly for someone who is about to see his life change when his name is called at next months' NFL Draft in April down in Arlington, TX.
Before all that transpires, however, there is business to attend to and it's a rather important next three weeks or so, beginning with the Combine. Pro Day, draft prep and more interviews with potential teams will follow, but this will be where the most eyeballs fall on the Far Rockaway, NY native. He took some time to catch up about a week before he headed to Indy and in our conversation, it was apparent he's ready to go.
"This is just one step closer to your dream," he said over the phone. "You always dream about going to the NFL when you start playing football as a kid. To get invited to [the Combine], it makes it seem like it is so close to realizing a dream."
He's been busy since his time at UConn ended, taking part in January's East-West Shrine Game in St. Petersburg, FL. It was the first of many chances for Fatukasi to show out in front of scouts, executives and fellow players. He did not disappoint that week, going against some of the best talent in the country as several members of the press took note. He's quickly become the buzz as one of the top 'sleepers' in this years draft and his work during Shrine week can be credited for that.
"That experience that week was intense," Fatukasi confirmed. "Everyone there was great. You're going up against the best of the best, not a sophomore who isn't quite ready yet. Every guy has that experience and every guy has tons of plays under their belt. That was a real intense week."
He also had a chance to talk with several team representatives down there.
"I talked to scouts throughout that week and they just asked me questions about my background, school and things like that," he said. "That week as a whole was exciting and intense all at the same time."
In preparation for the Combine, Fatukasi has spent his time down in Pensacola, FL, training at EXOS, one of the leading sport performance training facilities in the nation. In 2017, EXOS trained 84 NFL draft picks and 16 first-round selections at their NFL combine and pro days, translating to 33-percent of the entire '17 draft class. It's an opportunity for Fatukasi to work with the training staff that has supported 7#1 overall picks, 150 first rounders and 759 all-time NFL Draft picks.
"It's been a lot of work on technique, making sure your body works a certain way," he said. "It's completely different from what I'm used to. We have a great position coach that shares a lot of information and gives a lot of tips. So far, I'm learning a lot of new things and comprehending a lot, so that's been a great process."
Technique is one of the areas he's been focusing on since the season ended, taking advice from players who have made it to the next level through the training process.
"You can always get better on technique," he said. "Having a chance to talk to the guys that have been to the NFL, talking to scouts that work with these players, a big thing is technique and how you know your body. You need to know your opponent and know your playbook as well as your opponent. Technique is one big thing that I need to work on because that's something I can control and improve on."
Consistently finding himself in double teams throughout 2017, Fatukasi still finished the season leading the team with 7.5 tackles for loss, while also compiling 4 sacks. He wrapped up his UConn career with 14 total sacks and 21 TFL's.
"From an individualistic standpoint, I felt I had a really solid senior year," he said. "I felt like I kind of laid down my mark and ended it off pretty strong. I do wish that our season went a different way though as a team."
What will he deem a success on Sunday?
"Just coming out and doing my drills really hard," he said. "There are a few things that can make it go really well by coming out and showing these scouts that I'm capable of whatever system and whatever job they need me to do. As long as I relay that message through my actions, I feel I'd have a successful day."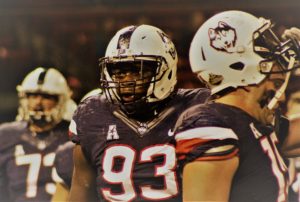 THE UCONN EXPERIENCE
Despite not having the most success on the field as a group, in talking with the guys who have wrapped up their UConn careers, no one would change the experience they had in Storrs and it has everything to do with teammates. It truly was a family.
"You talk about guys like Luke [Carrezola], Cole [Ormsby], Junior [Joseph], Cam [Stapleton], [Matt] Peart, all those guys, that's your second family," he said. "You literally spend all your time with them, whether it's at the facility, outside in class and even when you go home. Being around those guys, through the ups and downs of college, they made it really fun for me at the same time. I really appreciate those guys. I was just telling someone today that I missed my guys at school."
"It was literally, blood sweat and tears with them," he continued. "They are people you fight with, laugh with, live with, eat with, that's family. There's nothing like that. Even hearing stories about the NFL, guys are close in the league, but it's not like your college locker room. The dumb things that we've done in terms of just in the locker room, dudes dancing all crazy, pouring water on someone while they are laying down after a hard workout, it was great. I loved it at UConn and would certainly do it again with all those guys and the same people. I would not have changed a thing."
Leaving the program, Fatukasi sees nothing, but success in the future.
"I do have high hopes for the future because I know you know this, but UConn has had a lot of changes in pretty much every direction," he said. "Once UConn has some form of stability, the sky is the limit for them. I definitely do wish them a really great season next year. Coach Edsall has a lot of experience and he's going to do his best to put the team in the best position. I wish the entire program the best. Even though I'm not on the team anymore, I still have high hopes."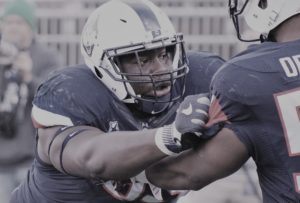 MORE THAN AN ATHLETE
Many times we look at athletes and think they have it all, but that's not always the case. Athletes are regular people, students looking to grow at the same place you and I shared similar experiences. During his sophomore year, Fatukasi joined a group that was founded by Dr. Joseph Cooper, an Assistant Professor of Sport Management in the Neag School of Education. The group was called Collective Uplift and it epitomizes that fact that Fatukasi was a true student athlete.
"That was about holistic development," he said. "Because athletes have grown up with such a strong athletic mindset and identity, it taught me that although I love football so much, once the game is over, where am I headed? Who am I away from the sport? Going through that program, coming in to talk and going to various workshops, resume building, speech building and all sorts of things like that, having great mentors in that group, it really helped me and molded my identity away from football, even though my athletic identity is still really strong."
He also built relationships away from the game with those on campus.
"I tried to connect with as many students as possible and make friends with people who were not athletes," he said. "You're around that athletic road so much that it's good to be around someone that doesn't know anything about your sport or is not an athlete to give you a different perspective on things. One thing I learned is that people actually think athletes have it easy and just having them get to know me and some other guys and breaking that mindset down, that it's actually not easy, we shed some light and vice versa. Sometimes athletes think being a student is just easy, whereas some student is actually going through a lot, especially financially. So meeting people who were not athletes kind of makes you realize the other side of it. You never want to minimize anybody's struggles because everyone works a different way."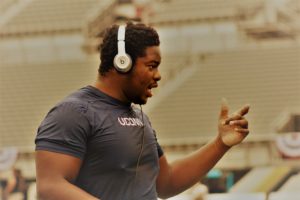 FOOTBALL RUNS IN THE FAMILY
In the Fatukasi household, football runs deep. His younger brother, Olakunle, followed in his footsteps to the college level, currently entering his second season with Rutgers. Foley has taught and mentored his younger brother ever since he started playing, helping in every aspect, as only an older brother could.
"Every experience I had, I shared with him," he confirmed. "If he had any questions, I shared with him because at the end of the day, if I didn't, that would be selfish. Bottom line is that's my little brother and I have to look out for him, make sure he knows the ins and the outs, even though he's going to find it and even though he's going to take his own path. I want to continue to share the experiences that I've had in order to give him an edge."
Family is also a big reason he's gotten to this point himself. Anyone that's around Foley knows he's a unique individual, quiet at times, but that's because he's thinking and taking in the moment. He thinks deep about various situations. This article started with the word humble, but it's also more than that. Foley is just a good person with a different mindset than most.
"A lot of it has to do with how I was raised and how I was brought up," he said. "A big part of it also has to do with my friends and who I surround myself with. Guys like Junior, Cam and Cole. Even though we have different personalities, we all think the same way. I could list the names, on and on and on, a bunch of guys, but it's all about who I surround myself with and how I was raised. The mindset? When coaches say you never know when this is going to end, you take that to heart. Especially now because college football has ended for me, so I kind of just take every day one day at a time and enjoy this moment because this is the point when you really don't know when it's going to end."
With the draft on the horizon in April and so many other evaluation periods between now and then, Foley is doing everything he can to improve his stock. Despite that, he's really not paying attention to all the hype or even projections. That's just not his nature.
"Honestly, I know it sounds cliché, but I really do not care where I go," he said. "In terms of projections, no one has really told me anything and I stay far away from that stuff, as I want to be completely focused on what I'm doing right now. When the time comes, whatever round, whatever pick, whoever takes me, I'm going to thank the people that are taking me because they are going to be giving me a great opportunity."
Doesn't get much more humble than that.
Interested in learning more about the training Foley Fatukasi has gone through at EXOS in prep for the NFL Combine? Here's a detailed look:
MATT SCHONVISKY / SITE CREATOR