When it comes to special teams at UConn, it's always an eccentric group. On Thursday, it was punter Brett Graham's turn to discuss the offseason and his improvements. Graham is an important piece to the special teams' puzzle, an area that head coach Randy Edsall often noted needed to improve a year ago. Also a key member of the battery in the kicking game, with placekicker Michael Tarbutt, he has worked hard to improve off of last year's performance.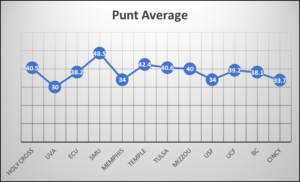 Consistency was a critical piece missing for the entire program last season and for Graham, it was no different. He averaged 38.8 yards per punt last year, but was never able to have consistent success. One week, there was a 48.5-average, followed by 34-yards a punt the next.
"Consistency was probably the biggest thing I needed to work on from last year," Graham confirmed. "I feel like I've gotten more consistent and I've done the things I've needed to do in order to accomplish that."
Technique, something the Huskies coaching staff has implored on their players, plays a major role in football, perhaps none moreso than with a kicker, be it placekicker, or punter.
"It was a lot of technique," Graham said as the reason for his inconsistency. "I have the leg strength, but it was more what I'm doing specifically to make it happen and punt the ball over 40-yards every time. That's the main thing I've been trying to work on is technique."
He's been talking with former UConn punter Justin Wain, who was a senior with the program when Graham first arrived. He's helped with the mental aspect of his game.
"He came here is a kicker, so he had to work through some technique stuff like I had to, so he's really helped me with the mental process," Graham said of Wain. "We have a lot different with our swing style, so it's not more about technique, but more about what he did mentally, outside of punting. Be consistent, drop the ball, do these amount of drops and swings and that's really helped me become what I am right now."
This offseason, Graham also joined kicker Michael Tarbutt on a trip to Arizona with Tarbutt's kicking coach. It was an opportunity to work not just on their game, but their friendship as well, something that could translate to future success on the field.
"That definitely brought us closer," Graham confirmed. "Me and him are really good friends. We're coming in here in the weight room almost every day together. We do a lot of things together. We hang out over the weekend, so that even helped our relationship grow stronger. I think that relationship helped our special teams' as a whole, as a unit. Our closeness really just brings everybody together."
"We can rely on each other, we know that," he continued. "We trust each other and we also can help other people when they're down. Myself and Mike, we know what to say to each other and to the group when things aren't going well in order to get them focused, instead of getting in their own heads. I think that's a big part of our relationship."
Another new dynamic was added to the group this offseason as new special teams coordinator Eddie Allen has arrived. Allen, who could bring life and energy to anyone, anywhere, at anytime, has helped.
"He's brought energy and a consistent attitude everyday," Graham said. "He says 'this is what needs to be done, this is what you guys need to do' and he expects that from us everyday. There's no rep off or anything. He's very energetic, he's very serious about what he does, which is awesome, but he also likes to have fun while he does it. He likes to smile and joke around with us a little bit, which I think is nice."
Allen has also brought a clear vision on how Graham can become more consistent and it has to do with three pieces of his game.
"Hang time is huge, hang time and direction," Graham said. "Coach wants all three, he wants hang time, direction and distance, but he really focuses on hang time and direction. So if I get those two right, they aren't going to have a return. If I hit a 50, 55-yard ball too, that helps."
Watching special teams, either in practice, or on game day, you'll see a coach, either Allen or Edsall with a stop watch. For those not aware, Graham described what the coaches are documenting.
"They're timing my get-off," he said. "They aren't timing the hang of the ball, they'll get that during film so it's more accurate, so they're timing my get-off and they want me under 2-seconds. That pretty much means as soon as the snapper snaps the ball, I catch it and by the time I kick it, he wants that under 2-seconds. For me personally, that means by the time I catch it and punt it, it's 1.2-seconds. Under that should get me in the right time zone so it doesn't get blocked and we don't have any trouble."
Being around throughout the spring, one thing that is apparent is there is a noticeable change among the entire team compared to a year ago, in what was the first under a new coaching staff. Graham recognized the same thing.
"I think the culture is a big part of what's changed," Graham said. "I think the culture is going in the right direction. We have leaders stepping up in all groups; special teams, offense and defense that are really helping us out. Our offense looks good, our defense looks solid and I'm pretty excited to see what happens in the spring game."
As part of that change, the team voted on a slogan for the new season.
"We changed it to 'Rise As One,'" Graham said. "We voted on that as a team and that's going to be our new thing, 'Rise As One,' as a team, which I think is really good for us, all of us coming together."
It ties into the mentality that Edsall is trying to drive into the program.
"The mentality of the team is to come back stronger, to prove that we're going to have the capability of finishing those close games and pulling them out," he said. "Instead of getting weaker in the fourth quarter, we want to get stronger. That's kind of our mentality, that's what it's been, is to ascend. Coach always talks about ascending throughout the year, we want to ascend throughout the game as well, so I think that's a big part of it too."
Saturday will certainly provide Graham, as well as the entire team, an opportunity to show just how far they've come.
FULL INTERVIEW (WATCH): Below is the full interview with UConn football punter Brett Graham.
MATT SCHONVISKY / SITE CREATOR