The arrival of Nate Hopkins to UConn delivered hope and optimism to the Huskies rushing attack. Coming to Storrs by way of Flower Mound, TX, Hopkins had a stellar high school career and built a reputation as a gifted back, earning offers from Boise State, Illinois, Army and Navy, the latter two speaking to his character and upbringing.
Hopkins was a big recruiting win for the Huskies, but with Arkeel Newsome and Ron Johnson solidified as the lead backs upon his arrival, he redshirted, playing his initial year predominantly on scout team. He still did not disappoint, earning offensive scout team MVP honors. With that performance, expectations quickly developed for 2017, a season where Hopkins was finally able to see the field on game day.
His debut more than met the lofty expectations that had been set. Given the ball 20-times, he gained 130-yards and found himself in the end zone often, with 3-touchdowns. It was one of the more impressive statistical debuts for a UConn running back since the upgrade. However, the 27-20 win over Holy Cross was his best game of the year, accounting for 22-percent of his total touches in a season where he only saw more than 10-carries once more (21-carries in a 20-14 win over Tulsa). Coincidentally, both times that occurred, the Huskies came out victorious, in a year where UConn only recorded three wins the entire season.
Seeing the end zone seven times over the first eight games, Hopkins finished the year with the 11th most touchdowns among freshmen across all of college football. Despite that success, the lack of workload at times was frustrating, especially when he had become accustomed to being the focal point of an offense.
"Yeah, it was a struggle," Hopkins admitted following Tuesday's practice. "Obviously, coming from high school, being the dude, that was a struggle for me, but at the same time, you need to be your own worst critic and address why that was. 'Why wasn't I getting those touches? Why wasn't I on the field?' Until I address those things, I can't really complain about them, so it's okay, I'm okay with it."
That experience became a driver for him all offseason.
"Absolutely [did]," he quickly responded. "I don't mean this in a selfish way, but I want to be on the field. That's why I came here, to be on the field."
In order to meet that goal, Hopkins focused on a few aspects of his game during the offseason and it predominantly had to do with conditioning, taking care of himself and the weight room.
"I wanted to get my body right, first of all," he said. "That will let me move better. I wanted to be lighter and I wanted to be able to stay on the field for all three downs, so I needed to get my hands better and I needed to sure up my pass pro. That's what I really focused on because I want to be that guy that can be on the field all the time. I don't want them to have to take me off the field."
Those efforts have translated to the practice field.
"I feel like I've gotten better since day one [this spring] and that was the goal," he continued. "I just go hard every day and when you go hard, you can't really go wrong. There's always stuff to correct, so if you just go hard, you do get better."
That improvement includes his pass catching ability. He became involved in the screen game as spring practice progressed and the more passes he saw come his way, the more natural it began to look.
"It has absolutely improved," Hopkins said with a laugh. "I didn't really have to catch the ball in high school, for whatever reason. They just didn't throw it to me, so it was kind of bad when I got here. I worked on it and worked on it until I really had no choice but to just get better."
Hopkins will not be the only one who can make plays out of the backfield in the passing game. Newly converted running back Zavier Scott has looked impressive and brings versatility to the position from his old wide receiver days. Hopkins likes what he and the rest of the unit bring to the offense.
"Zay, he's really solid, just all around the board," Hopkins said. "He hasn't been playing the position very long, but he seems to be picking things up fairly quickly. He came from receiver, so his routes are crisp. He's a good receiver out of the backfield. He can definitely help us. We have a few good running backs this year. Donevin [O'Reilly] is looking nice and obviously we have Kevin [Mensah], so I'm excited about that."
Hopkins' performance and the backs' overall success this year will coincide with the continued development of the offensive line, which has looked good throughout the spring. Eight players have stood out and grasped firm roles within the unit and Hopkins recognizes their improvement.
"The line is good," he said confidently. "Everybody is a year older. It's really the same people outside of Trey Rutherford. We are going to get [Ryan] Crozier back, who is a real good player. Cam [DeGeorge] is working hard and [Ryan] Van Demark is going to be really good. I'm very pleased with the o-line."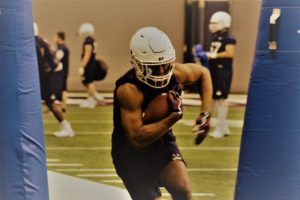 While the line will determine a large part of the running game, as well as protect the passer, the all-important quarterback position will ultimately decide how effective the UConn offense becomes. With David Pindell firmly entrenched as the starter, it's apparent that a belief has come over the entire offensive unit in what he brings to the offense. The final game of the year at Cincinnati may not have ended well, but it only helped Pindell's credibility and belief in him among the players, including Hopkins, who echoed what many, including head coach Randy Edsall have said this spring about the Huskies starting quarterback.
"David is a leader," Hopkins said. "He's sharper and he's been catching on the offense real well. He's not a super loud guy, but when you speak to him, you can just tell that he knows what he's doing. You have confidence in him, so I like playing next to him."
Hopkins mentioned that final 12-play, 93-yard touchdown drive that Pindell orchestrated over the final 1:22 at Nippert Stadium and the increase in confidence he and many others have in him from that series of plays.
"Definitely [did], definitely [increased our confidence]," Hopkins said. "I think that showed his character. He's a great dude who cares a lot. He hasn't been here for that long, but he cares about this program. When you see your quarterback do that, making plays with his legs, doing whatever he has to do, that just makes you want to get behind him and rally around him."
With the change in leadership with new OC John Dunn and the improvements across the board offensively, the unit is hoping to turn some heads on Saturday at The Rent. Hopkins in particular has some things he wants to display and they all surround the investments he made to make himself a better player.
"I'm hoping to show that I can be that three-down player [on Saturday]," he said. "I want to catch, I want to protect my quarterback and I want to run the ball effectively."
If he can do all three, it will go a long way towards Hopkins earning the trust of the coaches and his teammates, to do just that.
MATT SCHONVISKY / SITE CREATOR